Helping employees with their well-being at work.

Well-being at work is so important for employees' morale and productivity, creating a happier and healthier workplace.
With everything going on in the world today, is it any wonder we can feel 'down' and negative?  Many of us will feel stressed
and overwhelmed which affects our mental health and overall wellbeing.
Employees can feel all knotted up and exhausted from long hours at the computer. They may be suffering from headaches, anxiety and stress.
Looking after their well-being in the workplace helps both you and your employees, by instilling a sense of 'belonging' and feeling valued.
Statics
It is estimated that 75% of diseases nowadays are caused by stress and stress-related problems. Back pain is one of the biggest causes of work absences.
WELL-BEING AT WORK
How office massage in the workplace can help employees.
Studies have shown that regular on-site seated massage in the workplace is beneficial to the company and the employee.
Take a look at this study of massage therapy in the workplace: Reducing employee strain and blood pressure.
Why choose a seated massage?
The seated massage is focused on the back with more attention paid to the upper back, shoulders and neck where most of the tension is held.
Massages can be adapted to suit the person.  A chair or seated massage is carried out with the person fully clothed and only a small amount of space or room is required. This means that the employee can receive the treatment while still at work and at their desk. It could even take place in a large call centre doing on-the-spot massage while the employee is on the phone tackling an awkward customer! This will definitely help staff to remain calm and relaxed. Although it would probably be more relaxing fro them during their break time or an allocated time from the boss!
Treatments really work and are very effective, even for a short time, 5/10 minutes really makes all the difference.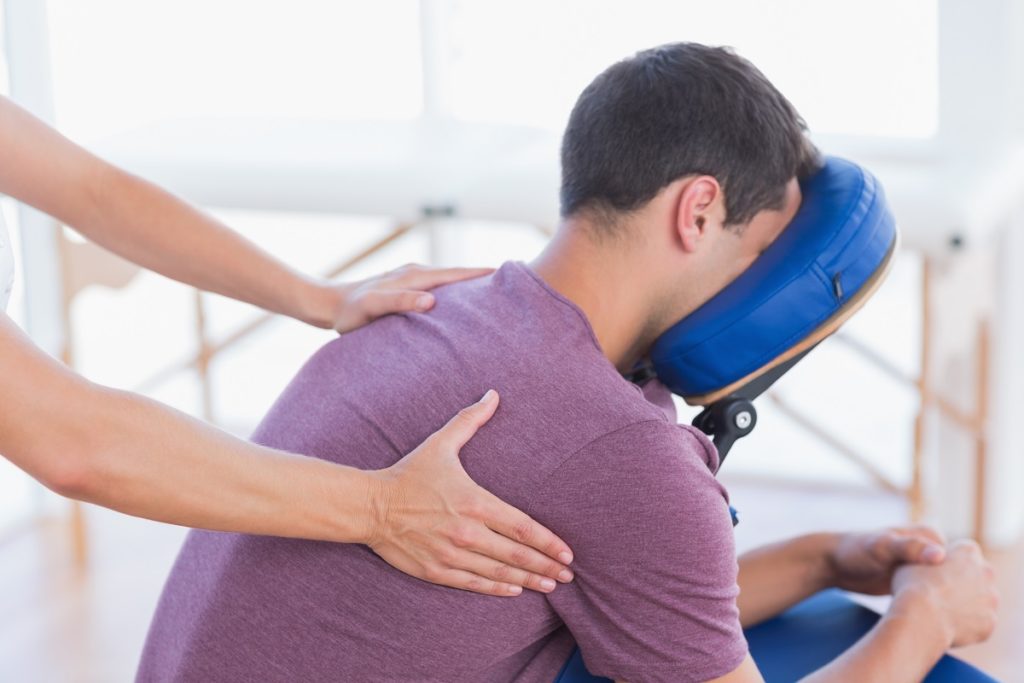 BENEFITS OF CHAIR MASSAGE IN THE WORKPLACE
Makes employees feel valued

Creates an atmosphere of trust and loyalty

Reduces stress, sick time and absenteeism

Reduces the high cost of employee turnover

Helps attract top talent to the company

Increases accuracy and creative thinking

Helps performance, elevates moods

Decreases workplace injuries
As a freelance therapist, I have been visiting companies for 20 years doing on-site-seated massage in the office and in recent years mindfulness has become very popular.
MINDFULNESS IN THE WORKPLACE
Mindfulness-based stress reduction, time management and relaxation skills for work and in your personal life.
It looks at how we can live a more stress-free life and improve our physical and emotional wellness. Employees will be shown simple, engaging techniques and stress management strategies to help boost self-esteem and confidence, learning how to tackle rumination and negative thoughts.
Mindfulness will help you to become more mindful and present in your everyday life. The aim is to take charge of the busy mind and move it from worrying into a more relaxed state.    Being present in such a way increases our ability to manage stress and anxiety improving our mental well-being.
The Benefits of Mindfulness in the workplace
Several studies have shown that mindfulness reduces rumination.
Reduces anxiety, stress & fatigue.
Increases focus, concentration levels and a clearer mind
Improves communication
Reduces conflict and builds relationships
Improves emotional Intelligence by improving communication
Reduces burnout and Increases productivity.
Reduces low mood & negativity
Improves physical health & general well-being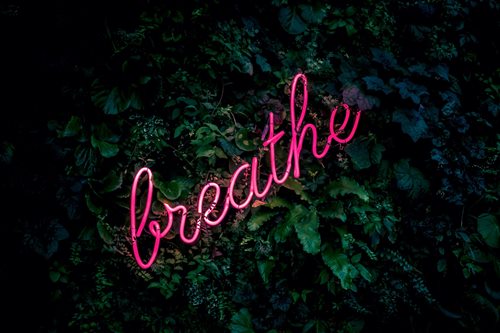 A little about me
I am based in Thornbury and I am a free-lance therapist visiting companies in and around the Bristol and Gloucestershire area. I also have private clients coming to visit
me for in-person treatments. I am a qualified and highly experienced therapist carrying out a variety of treatments. Many clients will come for some talking-therapies wellbeing treatments and I am able to offer them a combination of several, such as Mindfulness, CBT, Hypnotherapy and relaxation treatments.
Providing On-Site Chair Massage references
10 – friendly professional service

10 – Helen is a very good Masseur, she listened to me and worked on the areas that really needed attention. Very pleasant and polite

10 – Professional and capable. Really good to have an opportunity to take a few minutes out for self-care – what's not to love!

10 – It's great to have the opportunity to focus some time on relieving neck and shoulder stress caused by computer work. I would benefit from having this on a weekly basis, particularly as I have fibromyalgia and a light short massage on a regular basis would be really helpful in reducing much of the daily pain that I live with.

10 – Helen is excellent. I told her I needed a deeper massage and she provided one! Looking forward to more sessions with her as I've been struggling with my back for a while. Felt so much happier and relaxed after the session today. Thank you for providing this service.

10 – Excellent massage, I feel a lot better, thanks! The therapist was friendly and professional, putting me at ease. I have already recommended it to other colleagues.

10 – Really beneficial- would recommend it to all staff!
Mindfulness/well-being references
' I have always been sceptical of using holistic medicine. However, after suffering from anxiety that I could only manage through alcohol – not advised – I decided that it wasn't good for me, my family or my business. Looking for a solution we found Helen and she has been amazing for my mental health. My anxiety is manageable now and that's only after 3 sessions. It's also given me a self-esteem boost due to the Positive reinforcement with Mindfulness, Stress management techniques and even CBT in sessions. I will continue seeing Helen monthly as this has been such a positive experience all round'.
'Helen provides a fantastic service; I've been seeing Helen for a long period of time always listens to your concerns and tailors treatment to your symptoms.
Highly recommended'
'Helen has been supporting me through a holistic therapy programme including hypnotherapy, CBT, mindfulness and reiki. All aimed at helping me through a challenging time. I've found Helen to be extremely supportive, and professional and has a great calming effect. All her techniques and methods are fantastic, and I always leave our sessions feeling calmer, relaxed and ready to face the world. Thank you, Helen.'
Please feel free to get in contact with me for more information.